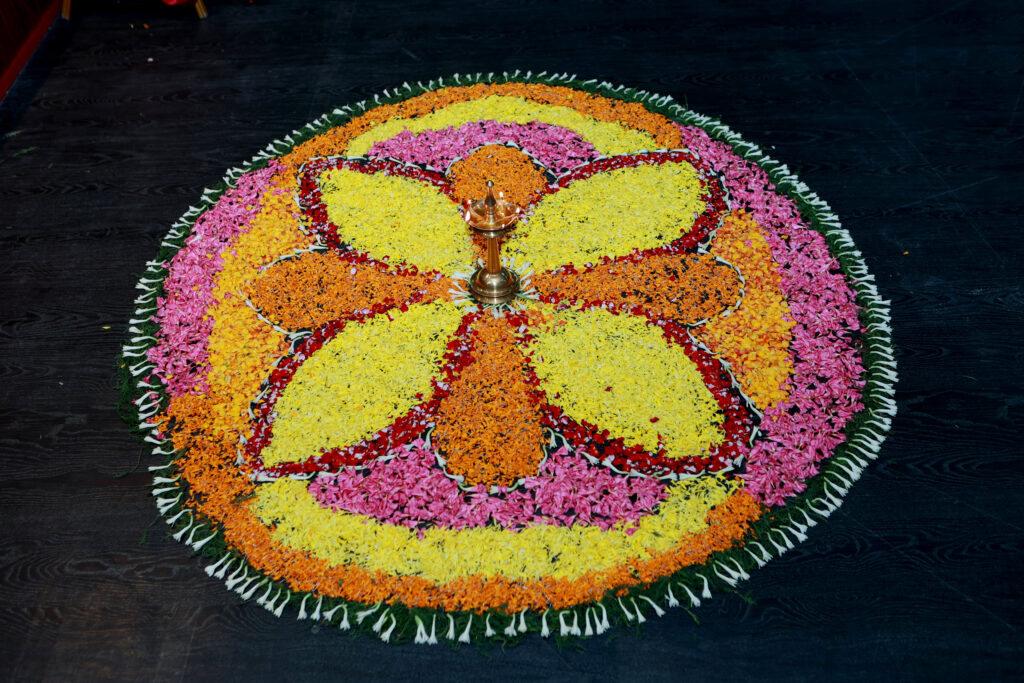 NAFO Global Kuwait celebrated Onam festival in a grand manner on Friday, 30th September 2022 at Indian School of Excellence, Block 12, Salmiya. The event started at 10.30 AM and was attended by a large number of NAFO family members and guests. A beautiful Pookalam had been arranged by Shri. Madhu Menon and Shri. Sudheer Unni Nair on the occasion. The Registration desk and issuance of Sadhya coupons were well managed by Shri. Rajeev Nair, Shri. Rakesh Unnithan and Shri. Vinayan Mangalassery.
The celebration event started with the Holy prayer recited by Master Nandakishore Girish, the recital of the Kuwait National Anthem, and the Indian National Anthem. This was followed by the lighting of the ceremonial lamp by Office bearers and Ladies Wing. NAFO General Secretary Shri Vijay Kumar Menon welcomed the gathering to the event. The Presidential address speech was given by NAFO Acting President Shri. A R Subbaraman. Next was an Onam message to the audience by NAFO Advisory Board Member Shri. K C Gopakumar. NAFO Advisory Board Chief Shri V R Vijayan Nair also extended his warm Onam greetings to the audience.
NAFO Ladies Wing led by Chief Coordinator Smt. Sheeba Shaiju, Vice Coordinator & Treasurer Smt. Sajitha Madhu Menon and Vice Coordinator Smt. Sunitha Menon coordinated and arranged beautiful cultural events during the event. The cultural event started with solo songs followed by Thiruvathira Kali by Ladies wing, cinematic dance and Songs, Tiny Tots dance and a Group Dance wonderfully performed by NAFO Kids. The participants were presented with medals by EC members as a token of appreciation. Additionally, prizes were distributed to participants of the recently concluded NAFO Global Independence Day Flag Hoisting Campaign "Har Ghar Tiranga". The event also witnessed an enthusiastic performance of Vanchi Pattu led by Shri. Pramod Menon, Shri Dilip Nambiar, Shri. Ravi Prasad, Shri Biju Menon and others with the instrumental support of Shri. O N Suresh Kumar.
This was followed by the launch of NAFO GLOBAL LULU EXCHANGE PRAGATHI 2022 musical show, to be held on 4th November 2022 at American International School (AIS0 Maidan Hawally, by Pragathi Band lead by renowned singer Shri. K.S. Harisankar also known as Prince of Melody in connection with the NAFO Global Annual Day. The show will also feature the award winning playback Singer Nithya Mammen. The launch ceremony was hosted by Program Convenor and NAFO Global Secretary General Shri. Anish Nair. During the ceremony, Program flyer and the entry coupons were released by the Title sponsors Lulu Exchange represented by their management Mr. Shaiju Mohandas – General Manager, Mr. Shafaz Ahmed – Head of Operations, Mr. Noufal Mahboob – Media Marketing along with the Official Carrier of the Event Jazeera Airways represented by Mr. Sachin Nene – Regional Manager GCC, Mr. Vishnu Soman – Key Account Manager, Mr. Akhil Nair – Revenue Management Specialist. Representing NAFO team NAFO Acting President Shri. A R Subbaraman, NAFO General Secretary Shri Vijay Kumar Menon, Treasurer Shri. TKV Pradeep Kumar, NAFO Advisory Board Chief Shri V R Vijayan Nair, Advisory Board Member Shri. R. Vijaykrishnan, as well as Joint Convenors Shri Jayaraj Edathil and Shri Naveen Chingoram were present. An AV presentation of the Pragathi band and the lead singers presented by Anish Nair was well received by the audience and guests.
The cultural events were then followed by a sumptuous Onam Sadhya, well-coordinated and systematically arranged by Shri. Mahesh Bhasker and Shri. Madhu Menon, which was relished by
all. The event was anchored by Kumari. Bhavana Menon and Kumari. Aswathy Vijaykrishnan. They both charmed the audience with their grace. The program console was efficiently managed by Bipin Madhavan throughout the event.
NAFO Program Convenor Shri. Umesh Nambiar cast Vote of Thanks on behalf of the Onam committee. The event concluded at 2.30pm.