As per UN's website, the theme for this year's Yoga Day is 'Yoga for Well-Being' and how the practice of Yoga can promote the holistic health of every individual. Notably, International Yoga Day is celebrated on June 21 as it is the longest day in the Northern Hemisphere. On 11th December 2014 the General Assembly of United Nations proclaimed that every year June 21st will be marked as the Yoga Day. The year 2021 marks the 7th International Yoga Day.
Owing to the raging COVID-19 pandemic, in 2020 the theme for yoga day was 'Yoga at Home and Yoga with Family'. The message sent out by the theme was that in these adverse times, yoga will give rays of hope to stay relaxed and fit. Similarly, this year's theme for International Day of Yoga is 'Yoga for Well-being.'
Psycho-social care needs to be prioritized amid the pandemic time and yoga plays a vital role in it. When COVID-19 patients, who are in isolation and quarantine, faced psychological problems doctors held yoga sessions as it provides aid in mental stability. Therefore, 'Yoga for Well-being' is the correct theme for this year because it focuses on the holistic health of every individual, which is the need of the hour.
We Indians can be proud that, this 5000 years old spiritual, mental and physical practice is considered to have been originated in India. The idea of dedicating a specific day to practice Yoga and thereby encouraging people to make it a habit was put forward by our Hon. Prime Minister, Narendra Modi. Now Yoga Day is such an event which is renowned by various countries across the globe. This boils down to the point that world has started recognizing the importance of Yoga. Yoga is derived from Sanskrit and it means to join or to unite. Union of body and consciousness is known as Yoga as it helps to maintain a balanced lifestyle in these changing times. Yoga can heal both your mind and body. It helps us to understand that everything you need, your courage, strength, compassion and love is already within you. It not only improves our health and flexibility, but is said to ease our stress. Stress and stress related health issues are the main concern of our present society.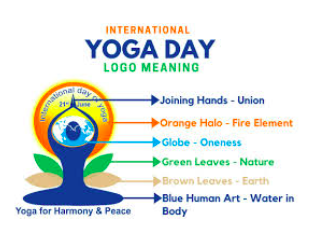 Yoga comprises of different asanas targeted towards the healing of particular health issues. Yoga poses function by stretching the muscles. The yoga asanas help you move better while relieving tiredness or laziness.
Here are some benefits of Yoga:
Boosts immunity
Relieves depression, anxiety and stress
Strengthens bones, relieve joint pain and spinal pain
Weight Loss
Increases muscle strength and helps in weight gain/loss
Helps fight infections and respiratory diseases
Our NAFO family have always given importance to Yoga and many of our children and grownups are getting trained in it. We are fortunate to have Dr.Akhila Vinod, prominent Yoga Therapist, Naturopathy Doctor, NLP Practitioner in our NAFO family. She is giving Yoga and meditation classes to many of our NAFO family members.
Yoga is a way of life that gives us an opportunity to leave the madness of world behind and attain inner peace.